Golf bucket hats have recently become the must-have accessory for any golfer. This trend has been growing in popularity due to its practicality and comfort.
Not only do they protect golfers from the elements, but they also provide a stylish way to show off your personality on the course.
In this article, we'll explore what a golf bucket hat is, why it's essential to wear one, and how to find the perfect one for your style.
So, if you want to make a fashion statement on the green, read on to learn more about golf bucket hats!
Definition
Golf bucket hats are a type of hat that is specifically designed for the sport of golf. They are typically made from lightweight, breathable materials with a wide brims.
This helps protect the golfer's eyes from the sun and provides extra protection from rain or wind. The hats come in various styles, colors, and sizes to suit different tastes and needs.
The primary purpose of a golf bucket hat is to protect from the elements while golfing. It shields the golfer's eyes from strong sunlight and can also help keep them warm on cooler days.
Additionally, the wide brim helps to block out any wind gusts that may interfere with their game. Some hats also include other features such as mesh panels or sweatbands to help keep the golfer cool and dry during their round of golf.
Due to their practicality and style, golf bucket hats are popular among amateur and professional golfers. They offer a great way to stay protected while still looking fashionable on the course.
Types Of Golf Hats
Golf hats come in various styles that can fit any golfer's needs. The most famous golf hats are bucket hats, visors, and caps.
Bucket hats have a wide brim that provides maximum coverage from the sun. They often feature adjustable straps for a snug fit and come in various colors and materials, such as cotton, polyester, or twill.
Bucket hats are perfect for those who want to keep their face shaded while still looking stylish on the course.
Visors provide more flexibility than bucket hats because they don't cover your head. They usually feature an adjustable strap at the back to ensure a secure fit and often include moisture-wicking sweatbands to absorb sweat and help you stay cool during hot rounds of golf.
Visors also come in many colors and materials, such as cotton, polyester, and mesh, to keep you comfortable all day.
Caps offer the highest level of sun protection thanks to their curved brims, which shield your eyes from harmful UV rays. They also have adjustable straps at the back for a custom fit and are typically made from breathable fabrics like cotton or polyester to keep you cool during play.
Whether you're looking for something classic or modern, there is sure to be a style of cap that suits your taste in golf attire.
No matter what type of golf hat you choose, ensure it fits properly so you can stay comfortable on the course without compromising your performance. With so many options available, finding one that suits your needs ideally is easy!
Materials Used In Making Golf Bucket Hats
Golf bucket hats are designed to protect golfers from the sun while they play, and they're made of various materials. The most common material used in making them is nylon.
Nylon is a robust and breathable fabric that protects against the sun's UV rays and helps keep the hat lightweight. It's also water-resistant, essential for golfers caught in rain showers during their rounds.
The following material used in making golf bucket hats is cotton. Cotton is lightweight and breathable, but it doesn't offer as much protection from the sun as nylon does. Cotton hats are great for days when the sun isn't too intense but not ideal for when it's hot out on the course.
Finally, some golf bucket hats are made from synthetic fabrics such as polyester or acrylic. These fabrics provide good UV protection and are generally more durable than cotton or nylon hats, making them excellent choices for those who want to invest in a quality hat that will last them a long time. With all these different materials available, there's sure to be a golf bucket hat out there that meets your needs perfectly!
Benefits Of Wearing A Golf Hat
Wearing a golf hat is more than just a fashion statement. It can provide several benefits, making it an essential part of any golfer's attire. Here are some of the critical advantages of wearing a golf hat:
Protection from the Elements: Golf hats are designed to protect you from the sun, wind, rain, and other elements while playing. The brim of a golf hat shields your face and eyes from direct sunlight, blocking out wind and light rain. They also provide insulation against colder temperatures during the winter months. This makes them an ideal choice for any weather condition.
Improved Visibility: A golf hat can also help you stay focused on the course by providing extra visibility in low-light conditions.
The brim provides shade from direct sunlight, which can impair your vision, while dark colors help you stay visible when playing in darker areas. This helps to reduce distractions and keep your game on track.
Added Comfort: Not only do golf hats protect you from the elements, but they also provide comfort during long rounds of play.
Many hats feature adjustable straps or Velcro closure systems, allowing for easy sizing adjustments and added comfort around the headband area. This ensures your hat fits snugly and securely without being too tight or restrictive.
How To Choose The Right Golf Hat
Choosing the right golf hat can make a big difference in your game. Considering several factors, including size, material, and style, is essential.
When it comes to size, you want a hat that fits comfortably and securely on your head. To ensure a proper fit, measure around your head with a soft measuring tape and compare the measurement to the size chart of the hat you're interested in purchasing.
In terms of material, you'll want to choose a golf hat made from a lightweight fabric that will keep you cool and dry during those hot summer days on the course. Look for features like sweat-wicking technology or mesh ventilation panels for ultimate breathability and comfort.
Finally, when it comes to style, pick something that reflects your personality and fits well with your other golf gear to look sharp from tee-off to green.
Popular Brands Of Bucket Hats
Popular brands of bucket hats have become commonplace in the golfing industry. Major companies like Nike, Under Armour, and Titleist have all released their versions of the hat.
Nike's version is one of the most popular among golfers, as it offers a comfortable fit and various colors. The hat has also become a staple in streetwear culture, with many hip-hop artists wearing them during performances or photoshoots.
Under Armour's version combines practicality and fashion with its breathable material and stylish design. It also features a sweat-wicking lining that helps keep the wearer cool when playing in hot weather.
Titleist's version is more tailored for performance, boasting a water-resistant finish and lightweight construction that makes it ideal for long days out on the course.
No matter what style you're looking for, you can find a bucket hat from a famous brand that fits your needs. Whether you're looking for something to wear on the golf course or something to make a fashion statement with, these brands have you covered.
Styles And Colors Available
Golf bucket hats come in various styles and colors, so you're bound to find one that's just right for you. Classic solid colors are available such as navy, white, and black.
You can also find a range of prints and patterns, including stripes, camo, floral, and polka dots. Whatever your style preference is, you can be sure to find the perfect hat for any occasion.
The hats are also made with different materials for various purposes. For example, there are lightweight polyester hats that are great for everyday use or more durable cotton canvas hats that offer extra protection from the sun.
They come with adjustable drawstrings and chin straps to customize your fit. Plus, many golf bucket hats have moisture-wicking features to keep sweat away from your face during hot summer days on the course.
No matter your style or color, a golf bucket hat will give you the protection you need without compromising style or comfort.
With its wide array of options, these stylish hats provide an effortless way to upgrade your look while staying comfortable throughout your round of golf.
Where To Buy Bucket Hats
Bucket hats are an excellent accessory for any golfer. Finding the right hat is essential for looking and feeling your best on the course. Fortunately, there are plenty of places to find quality golf bucket hats.
Online retailers are a great place to start when shopping for bucket hats. Sites like Amazon offer various products from different brands at competitive prices. There's also eBay which has an even more extensive selection of bucket hats and other golf-related items, such as shoes and apparel.
Local sporting goods stores can be another excellent option for finding golf bucket hats. You can touch and try on the product to find the perfect fit before purchasing. Local stores also often have knowledgeable staff to help you choose the right hat for your needs.
No matter where you shop, do your research to get the best product for your money. Read reviews, compare prices, and look for special offers or discounts before purchasing.
With some research, you'll be sure to find the perfect golf bucket hat that fits your style and budget!
Cleaning And Care Tips
Caring for golf bucket hats is essential to keep them looking their best. To properly clean the hat, use a soft brush and lukewarm water to remove dirt or debris.
Gently agitate the material to loosen any debris without damaging the hat. If necessary, add a mild detergent with your brush and water. After cleaning, let the hat air dry on a flat surface.
To store your hat correctly, ensure it's scorched before placing it safely away from direct sunlight. This will help to prevent fading and discoloration over time. Additionally, it would be best never to fold or press your hat as this can cause permanent creases and damage to the material.
Keep your golf bucket hats looking great by following these simple cleaning and care tips. With proper maintenance, they'll last for years to come!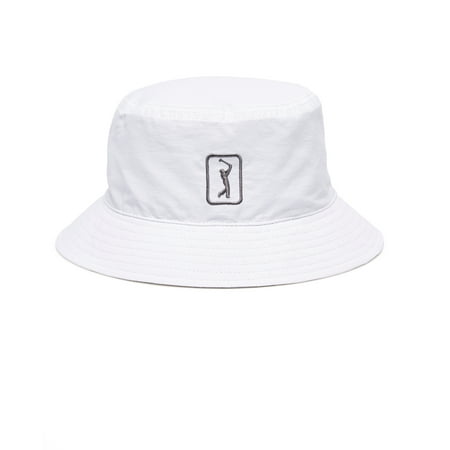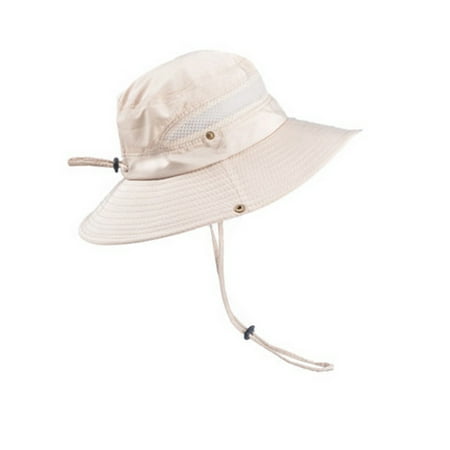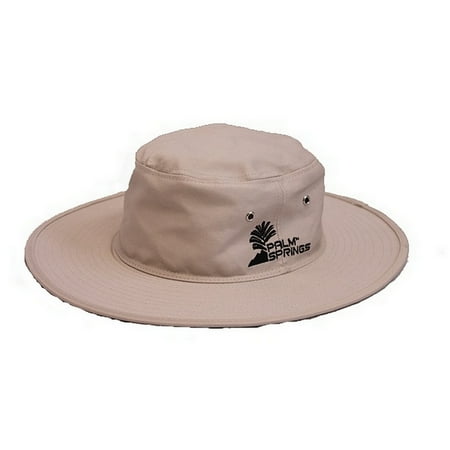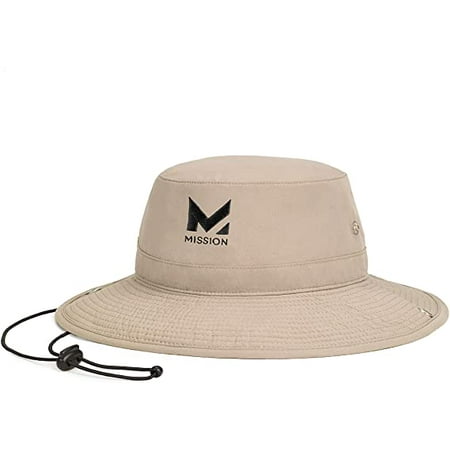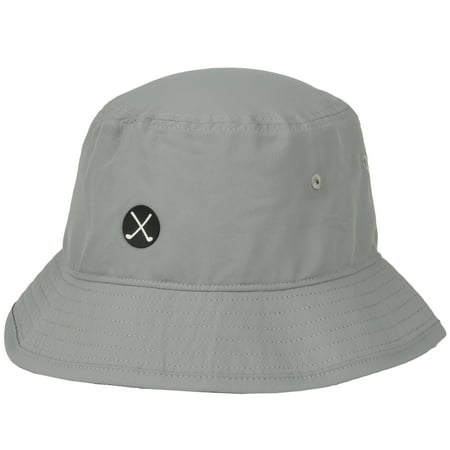 Personalization Options
Golf bucket hats come in various colors and styles, but if you want to make your golf hat genuinely unique, consider the option of personalization. Personalizing a golf hat allows you to add designs or images representing your style or interests.
Some companies offer custom embroidery services for those looking for an even more personalized look. With this service, you can choose from various fonts and thread colors to create an original design sewn directly onto the hat.
You can also upload artwork or logos that can be stitched onto the hat for a truly one-of-a-kind look.
No matter what type of customization you choose, adding personal touches to your golf bucket hat will give it an extra level of style and personality.
Whether you're looking for something subtle or bold, with suitable customization options, you can create the perfect golf bucket hat that will make all your friends jealous!
Accessorizing With A Bucket Hat
Bucket hats are a great way to complete any outfit. They're comfortable and stylish and can be worn with anything from jeans to dresses. Whether looking for a casual or dressy look, a bucket hat is a perfect accessory.
Regarding accessorizing with a bucket hat, the possibilities are endless. You can pair it with an oversized sweater for a cozy and relaxed vibe, or layer it over a blazer for an edgy yet sophisticated ensemble. It also looks great with other accessories, such as scarves, jewelry, and sunglasses.
Bucket hats come in different colors, materials, and styles, so there's something for everyone. Whether you want to go bold with bright colors or keep it neutral with earth tones, you'll find one that matches your style perfectly. Plus, they are easy to care for and last longer if you properly care for them.
No matter what type of look you're going for, don't forget to top off your outfit with a bucket hat – it will add just the right amount of flair and make sure you stand out from the crowd!
Innovations In Design
The evolution of bucket hats has come a long way from their original design. With new fabrics, colors, and patterns, golfers have embraced these stylish hats.
For example, many manufacturers now offer waterproof versions perfect for rainy days on the links. Additionally, some brands have created hats with UV protection to shield wearers from the sun's harmful rays.
Designers have also incorporated unique features into their golf bucket hats, including adjustable straps for the perfect fit and breathable mesh panels for ventilation. Furthermore, some companies offer reversible designs that allow you to change your look without buying two different hats.
With many options available, finding a golf bucket hat that meets your needs and expresses your style is easy. Whether you prefer a classic look or something more modern, there is sure to be a hat that fits your preferences and enhances your game-day wardrobe.
How To Wear A Golf Bucket Hat
A golf bucket hat is a stylish way to protect your eyes from the sun and keep your head cool on the golf course. Wearing one of these fashionable hats can add a little extra flair to your look as you tee off. But how do you wear one? Here are some tips for styling a golf bucket hat.
First, you'll want to find the right size and fit for your head shape. A snug fit will ensure your hat stays in place as you swing, walk, and squat down to read putts. The hat's brim should also be wide enough to shield your face from the sun.
When it comes to style, you can rock a golf bucket hat in many different ways. You could go for a solid color like navy or black or add some extra personality with patterned fabrics or bright colors. Don't be afraid to experiment with different looks – that's half the fun! With so many options available, there's sure to be a style that speaks to you.
No matter what type of look you're going for, wearing a golf bucket hat can help keep you safe and comfortable on the course while adding an air of sophistication at the same time. So don't hesitate – to grab a stylish hat today and hit the links!
$50.00
in stock
6 new from $50.00
as of June 10, 2023 2:05 pm
$40.51
$44.99
in stock
9 new from $36.61
as of June 10, 2023 2:05 pm
$20.80
$34.00
in stock
11 new from $20.80
as of June 10, 2023 2:05 pm
out of stock
as of June 10, 2023 2:05 pm
Last updated on June 10, 2023 2:05 pm
Celebrity Style Inspiration
Golf bucket hats are a stylish choice when it comes to headwear. Some of the biggest celebrities have worn them and always look chic. Many wear them out on the golf course, but they are also famous for everyday use. From Rihanna to Justin Bieber, there's no shortage of stars who have rocked the look.
The great thing about golf bucket hats is that they come in various colors and patterns. Whether you prefer something subtle or bold, you can find a style that suits you. Even special edition designs with unique prints and embellishments make them stand out even more.
So if you want to add Hollywood style to your wardrobe, grab a golf bucket hat and make a statement! These hats are also comfortable and lightweight, making them an ideal seasonal accessory. With so many options available, it's easy to see why they're a favorite among celebrities and fashionistas alike.
Last updated on June 10, 2023 2:05 pm
Trends In Golf Headgear
Moving on from celebrity style inspiration, let's explore trends in golf headgear. Golfers have long been known for their classy and timeless style – part of what makes the sport so iconic.
But there's more to golf than just a polo shirt and crisp slacks. Many golfers are now embracing more modern styles, including golf bucket hats.
Golf bucket hats are the perfect way to keep cool while still looking sharp on the course. They come in various colors, patterns, and materials that can be easily coordinated with any outfit. Plus, they feature adjustable drawstrings and a wide brim to keep the sun out of your eyes during those long summer days on the course.
Golf bucket hats provide protection from the sun and an added level of style that can make you stand out on the green or at the clubhouse after your round. So, to stay comfortable while maintaining your signature look as a golfer, consider adding a few golf bucket hats to your wardrobe!
Conclusion
To conclude, golf bucket hats are a great way to stay calm and protect yourself from the sun while on the course. They come in many different styles and materials, so finding one that fits your style and budget is easy.
The benefits of wearing a golf hat include protection from the sun, keeping sweat out of your eyes, and staying calm even in hot weather. When choosing a hat, ensure it fits comfortably and looks good.
Innovations in design have allowed for more stylish options that still provide function. Finally, don't forget to accessorize with celebrity-inspired trends to show off your style on the green!